Meet Ned, a litigator specializing in dealer side automotive and IP matters.
603 665-8844 direct
603 623-8700 main
603 623-7775 facsimile
Jefferson Mill Building
670 North Commercial Street
Suite 108
PO Box 1120
Manchester, NH 03105-1120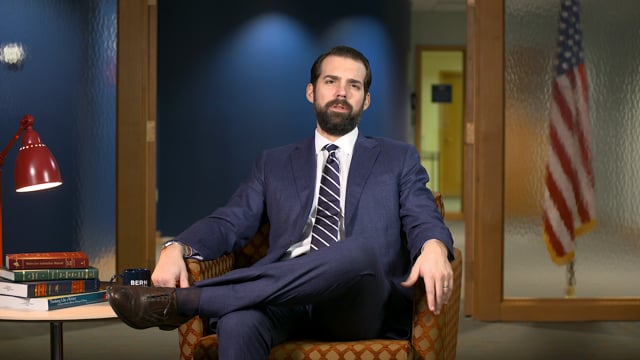 AWARDS
Ranked by Chambers USA (2021) – Litigation: General Commercial (New Hampshire)
Named New England Super Lawyer 2018 – 2021
Named New England Super Lawyers Rising Star (2013-2017)
Named to the New Hampshire Union Leader's 40 Under Forty program
PRESS & PUBLICATIONS
MEDIA
Here's why you'll enjoy working with him.
Ned takes and wins tough cases. As a litigator and a trusted advisor, Ned has guided his clients through their most complicated and difficult problems. He has won at trial. He has gotten cases dismissed on the papers. He has pierced the corporate veil to collect debts. And, he has made new law at the New Hampshire Supreme Court in order to protect his clients. From trademark and trade secret litigation to products liability and non-competition agreements, Ned has deep expertise in a broad range of areas—and that's great news for his clients.
Ned is proud to have partnered with the New Hampshire Chapter of the ACLU to protect the constitutional rights of New Hampshire residents. Most recently in 2017, with the help of the NHCLU, Ned convinced the New Hampshire Department of Corrections to modify its incoming mail policy to make it easier for pre-literate children to send correspondence to their incarcerated parents. An Associated Press report on the case is available here. Ned also represents New Hampshire's only inmate on death row in post-conviction proceedings seeking to vacate his capital sentence.
But that's not all. Ned is also very experienced in:
Automotive – dealer side
Ned has represented auto dealers and other equipment franchisees in the New Hampshire and Massachusetts courts, and before the New Hampshire Motor Vehicle Industry Board. He has represented dealers in termination protests, consumer litigation, products liability litigation, and regulatory matters. Ned has also assisted dealers with difficult business disputes arising amongst partners.
Trademark, copyright, and trade secret litigation
Ned has litigated "soft IP" disputes in state and federal district courts throughout the country, as well as before the Trademark Trial and Appeal Board. He frequently protects the rights of brand owners in the food and beverage space, including purveyors of beer, wine, and spirits. Ned has also defended infringement actions on behalf of large corporate clients. In addition, Ned has litigated matters involving trade secret theft on behalf of both large businesses and closely held corporations, as well as other complex business litigation matters. In 2015, Ned succeeded in having criminal unfair business practices charges dismissed against his client in a case that changed how the New Hampshire Unfair Businesses Practices Act is applied. See State v. Mandatory Poster Agency, Inc., 168 N.H. 287 (2015).
Non-competition agreements
Ned has frequently litigated matters arising from non-competition and non-solicitation agreements in the New Hampshire Courts, including the Business and Commercial Dispute Docket, colloquially known as the "Business Court." He has represented both businesses seeking to enforce their rights and executives and former business owners accused of breaching their agreements.
Products liability defense
Ned has served as regional counsel for publicly traded medical device and pharmaceutical companies, often working side by side with their national counsel at some of the nation's largest and best law firms.
Complex probate litigation
Ned has litigated complex matters in New Hampshire's probate courts, appearing in front of both the probate "Complex Case Docket" and the New Hampshire Supreme Court in service of his clients.  Most recently, Ned and his partner, Roy Tilsley, prevailed in the first New Hampshire Supreme Court decision on the concept of "decanting" trust assets.  See Hodges v. Johnson, 177 A.3d 86 (N.H. 2017).
In his former life, Ned was:
Clerk for Judge Thomas M. Golden of the U.S. District Court for the Eastern District of Pennsylvania
Member of a large Philadelphia law firm
When Ned isn't working, he is…
Serving on the New Hampshire Board of Bar Examiners and helping to plan the annual fundraiser for the Campaign for Legal Services. When he's not at the office he enjoys spending time with his family, playing blues guitar, and listening to stand-up comedy.
Representative Matters
Frequently Ned is able to negotiate favorable resolutions for clients short of trial. In cases where Ned has had to go to trial or seek dismissal on the papers, he has won victories for clients in New Hampshire and throughout the country. For example:
Hodges v. Johnson, 177 A.3d 86 (N.H. 2017): Prevailed in issue of first impression on "decanting" of trust assets.
State v. Mandatory Poster Agency, Inc., 168 N.H. 287 (2015): Case dismissed, State now required to prove specific intent under Unfair Trade Practices Act.
In re Donovan, 162 N.H. 1 (2011): Lower court decision affirming application of common law trusts and estates doctrine of "ademption."
Spyderco, Inc. v. Kevin, Inc., 2017 WL 2929548 (D. Colo. July 7, 2017): Motion to dismiss for lack of jurisdiction granted.
Palmerini v. Fidelity Brokerage Services, LLC, 2014 WL 3401826 (D.N.H. July 9, 2014): Summary judgment granted in defendant's favor and attorneys' fees awarded.

Rowe v. Liberty Mutual Group, Inc., 2013 WL 6384805 (D.N.H. Dec. 6, 2013): Summary judgment granted in defendant's favor.
Background
Education
JD, University of Virginia School of Law, 2004
BA, Tulane University, 2001
Admitted to practice
State of New Hampshire
Commonwealth of Massachusetts
US District Court for the District of New Hampshire
US District Court for the District of Massachusetts
US Court of Appeals for the First Circuit
Memberships
Member, New Hampshire Board of Bar Examiners
Member, National Association of Dealer Counsel (NADC)
Member, New Hampshire Automotive Dealers Association (NHADA)
Former Chairman, New Hampshire Bar Association Business Litigation Section
Former Chairman, New Hampshire Bar Association Federal Courts Litigation Section
Former Chairman, New Hampshire Bar Association New Lawyers Committee
Member, Daniel Webster-Batchelder American Inn of Court Board of Directors
Member, Campaign for Legal Services Kickoff Event Planning Committee
Member, New Hampshire Federal Courts Advisory Committee
Member, New Hampshire Bar Association Continuing Legal Education Committee